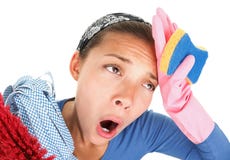 photo source
I know that I've written a couple of times already about
Triggers: Exchanging Parents' Angry Reactions for Gentle Biblical Responses
by Amber Lia and Wendy Speake, but when I read this paragraph I knew that I needed to share it with you. I've always wondered why I start cleaning when I'm upset, and why clutter doesn't bother me -- until I'm upset about something totally unrelated. Now I know. :)
The confusing problem is, this isn't really about my house at all...my need for order in the home goes much deeper than a woman's affection for a freshly swept floor and Windexed windows. What I'm learning about my need for a clean home is that uncluttered countertops are a tangible way to rank the control I have over my life. When I can't control my husband's work schedule, my children's volume, their behavior at dinner or in their beds at night...I want to have just one aspect of my life in order. Just one. That's all I ask! (p.183)
In other words, when my life feels out of control -- out of my control, I want to assert my control over something, anything, and that oftentimes is my home.
I remember the first time I realized this about myself. John and I hadn't been married long, and I had a new recipe to try out. I was excited about it and had spent a good bit of time preparing it. When I pulled it out of the oven, however, it was completely inedible. So I started cleaning the kitchen like I had never done before. John and I were both surprised by my reaction. :)
Do you clean when you're upset?