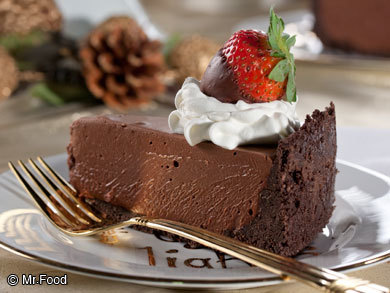 I tried a couple of new recipes this week, and I wanted to share both of them with you because they are amazingly good! But I do not recommend making them in the same week (like I did) for the sake of your waistline and your tummy because both are very
rich
.
At the church we attend, there is a potluck lunch every Sunday. Since I enjoy baking, I usually bring some kind of dessert. This week I tried
Rolo Fudge Brownies
. I don't remember who brought this recipe to my attention, and I wish I did so I could thank them properly. This recipe is definitely a keeper. I mean, Rolos and a brownie, caramel sauce and fudge -- what's not to love? ;)
Mine isn't nearly as photogenic, but it sure was scrumptious!


I had a hankering for a chocolate mousse cake for my birthday, but all of the recipes I found online were too complicated, that is until I found
this one
. While
Chocolate Mousse Cake
may not technically be a cake, it sure is good. It's really not too hard to make, and I may want this every year for my birthday.
Yes, I've made my own birthday cakes for several years now. I just can't justify paying a grocery store to make one; it's too expensive for cake that's not that good. I can make exactly what I want for a lot less money...so I do. Sarah Beth has offered to make my cakes for me once she learns how. Maybe that should be my goal for this year. ;)
Have you tried an "amazingly good" recipe lately? Do you make your own birthday cake? Or am I just strange like that?