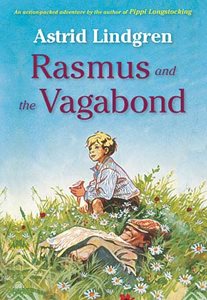 When Rasmus runs away from the orphanage, Oscar finds him, and they become a team, a team of tramps. What Rasmus really wants, however, is a home, and they both know that he is only biding his time until he finds a family who wants him. Along the way, they have an adventure with thieves, and then, finally Rasmus finds a home. But is it really what he wants? Will he stay? Or will he keep wandering with Oscar?
I was so excited when I saw this book by Astrid Lindgren on my list! I have such fond memories of reading
Pippi Longstocking
when I was a little girl that I knew that my children and I would love this book, too. And we did. Such a simple story with a lot of good, clean fun, we all enjoyed it, laughing out loud many times. And I must admit that I was surprised by the ending, but it was a pleasant surprise. I'm so glad that Plough Publishing has re-released this book! My oldest daughter already wants to reread it!
I want to thank Plough Publishing for my review copy of this book, but my opinions are my own.