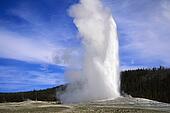 We sang "Come, Thou Fount of Every Blessing" at church yesterday, and the third verse, as always, spoke to my heart.
Oh, to grace how great a debtor
Daily I'm constrained to be!
Let thy goodness, like a fetter,
Bind my wandering heart to Thee.
Prone to wander, Lord, I feel it,
Prone to leave the God I love;
Here's my heart, O, take and seal it,
Seal it for Thy courts above.
Daily, I need God's grace. I have to have it because of my sinfulness, my wandering: every time I snap at one of my children or speak critically to John, I wander from God's will. Every time I seek something selfish instead of sacrificing myself, I'm wandering. Oh, it's a constant battle! But I am bound to God. What binds me? God's goodness which serves as a fetter to keep me close to Him. What wonder of wonders! And He has taken my heart and sealed it for Heaven. Heaven is waiting for me! What glorious thought!
Does God use hymns to speak to your heart? Which ones?